ARVORE seeks a creative NARRATIVE DESIGNER to design the narrative elements of our experiences and to champion story within the development process. When designing a narrative, we all know the golden rule "show, don't tell". In what comes to interactive content, we may also add "do, don't show". The NARRATIVE DESIGNER must think in actions and interactions. As interactive storytellers, we invite the audience to take actions and immerse their body within a story. Therefore, it is very important to take the medium into account and consider the user's body when designing a VR experience. The ND's job is to make sure the interactions and narrative work seamlessly, considering the particularities of each project.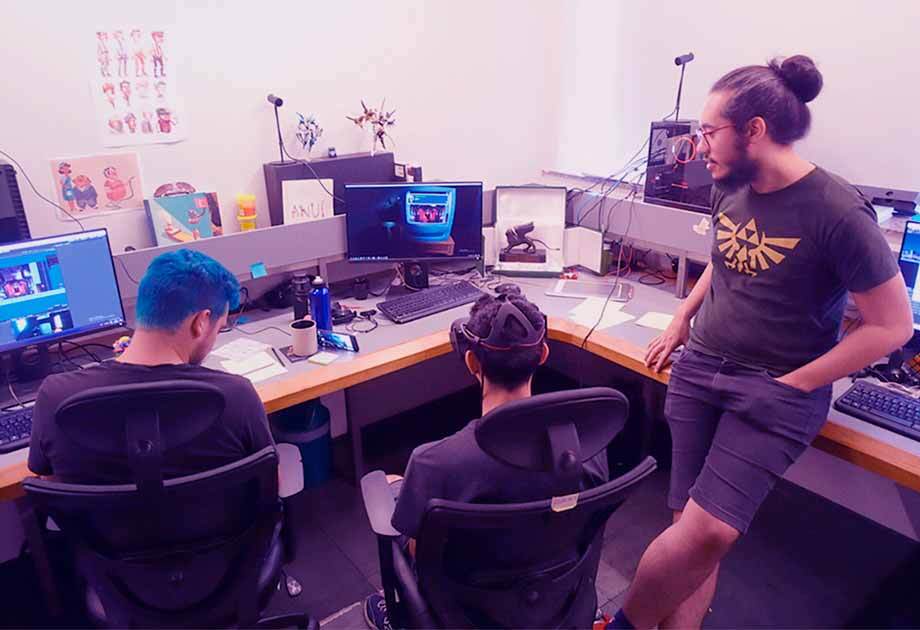 Main Cross-Functional Activities:
As part of the Core Team, the Senior Narrative Designer is responsible for conceiving, creating and advocating appropriate narrative features, as well as writing narrative content and ensuring it is embraced by the final product.
Actively acts in order to improve the creative and production processes developing ways to materialize the project's narrative content, making them clear and approachable for the entire team.
Create descriptions and backstories for characters, locations, objects, events. Together with the Production Design team and the Creative Director, bring out worldbuilding systems.
In collaboration with the Game Design team and the Creative Director, define the flow of events inside the experience; lead and follow the implementation of dialogues, animations, audios, events timings, props etc.
Make sure the entire team and production partners are constantly irrigated by the narrative elements.
Ensure the project is understandable and cohesive, from the user's point of view; follow and report user tests.
In addition to traditional storytelling techniques, the Senior Narrative Design is open to understanding other creative mindsets, like software development, game-design, spatial storytelling, architecture, fine arts, dance, etc. in order to come up with creative solutions to conceive narratives that are native for virtual reality.
The Senior Narrative Designer will mentor less experienced colleagues improving their level of craftsmanship, approach, and efficiency.
Produce texts summarizing the narrative content for distribution purposes (festival registrations, pitch decks, etc.).
Create a repertoire of narrative VR experiences and present new immersive experiences to the team.
Be able to share the product's vision internally and in external events, when needed.
Must Have:
Previous experience in narrative content creation teams.
Willingness to observe, absorb and modify their own work on behalf of each project.
Constantly looking for learning new skills and increasing their repertoire.
Always giving and receiving constructive and creative feedback.
Fluency in Portuguese and English languages.
Fully understanding and experience creating narrative structures, plots beats, emotional progress and all elements of classical storytelling.
Exceptional writing ability.
Willingness to find the balance between narrative, interaction and ludology aspects in immersive experiences, and ability in the integration of story and interactions/game-play into the final product.
Passion for Movies, TV, Visual Arts, Litterature, Theater, great stories in general, independently of their media.
Previous scriptwriting for film, TV or games.
Technical or Bachelor of Arts, Cinema, Media, Creative Writing, Literature degree or equivalent practical experience.
Strong interpersonal skills with the ability to interact, both verbal and written, with team members of different disciplines.
Be open to learning new methods and frameworks.
Nice To Have:
Be familiar with Google G Suite, and screenwriting softwares.
Previous knowledge or experience with VR and AR content is desirable.
6+ years of experience in writing at a studio or production company, or equivalent writing experience in a role at an established content producer.
Video Games industry experience is a plus.
A passion for Virtual Reality
Recruiting Process:
Apply for the position.
Selected candidates will be invited for an initial interviewing process
Final candidates will meet the team and go through final interviews
Decisions will be e-mailed right after
back to jobs